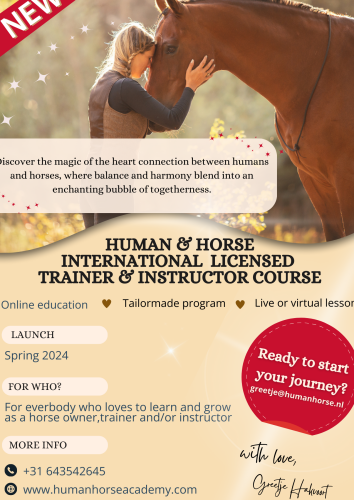 Become one of the first Certified Human Horse Trainers & Instructors outside the
Netherlands.
Suitable for all kind of horse lovers who want to learn and grow with their horses
Included home study; Online education video's & studybook & work book
Live webinars covering theory and Q&As for about 10 hours during the course
Submit training videos for your personal growth with your horse
Human & Horse Community for support and to connect with eachother
International training to become a qualified Human & Horse Trainer and instructor
Tailermade program to fit your personal needs and preference. *
Discover the friendly training needed to teach human-horse communication with care, confidence and love. This program is designed for students who live ouside the Netherlands with online support in combination with possibilities to have lessons online or live on our Academy!
A complete course to build your foundation as the personal trainer and cheerleader of your horse.
Become one of the first Certified Human Horse trainers & Instructors outside the Netherlands.
When the Human-Horse connection is made with heart, it leads to a harmonious, fulfilling, and joyful journey with your horse.
As a student and Certified Instructor you are part of the Human & Horse Academy, you'll have the privilege to share your knowledge to your students and grow the philosophy of Human & Horse world wide.
If you want to follow the course with your horse but have no ambition to pursue it professionally, then this course is also suitable for you!
Greetje love to learn more about your DREAM, and we encourage you to reach out personally to her for more details before you enroll. You can email her to schedule a personal phone call.
Greetje@humanhorse.nl
You can download the brochure for more information.